Brand New Silicone Rings
Since our rings are made from high grade silicone they are hypoallergenic and durable. You can wear them to the gym, pool, and beach. They also are up for the elements of a tough work environment too. And we have priced so you can buy a few colors. The mens' rings are about 40% wider than the women's rings. Both look great in person and will be a superb non-metal ring for your active lifestyle. Plus our rings are on sale this month for just $4.88 per ring!
MEN'S SILICONE RINGS
See colors of our silicone rings for men below. We stock sizes 7 through 14.

WOMEN'S SILICONE RINGS
See our silicone rings for women below. We stock sizes 3 through 9.
Customized Silicone Rings Available Below!
You can now customize your silicone ring with a name or initials or message. We can add approx 9 characters to the rings. A few less on small ones and a few more on the larger sizes. If you have any questions about what text we can fit you can message us anytime. You can choose to have your message on the INSIDE or OUTSIDE.
For a limited time our custom silicone rings are avaialble for just $8.88 each!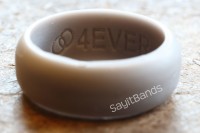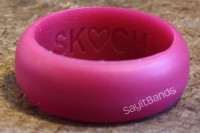 | | |
| --- | --- |
| MEN'S CUSTOM SILICONE RINGS | WOMEN'S CUSTOM SILICONE RINGS |